CBC Wind Energy
Rooftop or Ground Mounted Resilient Power.
Ships easily, deploys quickly, lasts for decades, neighbor friendly.
The Cupola Series is a simple, fully assembled wind energy structure that provides affordable power for homes, farms, and marinas. It complements battery storage, grid, and solar power, offering a reliable and cost-effective energy solution.
With a daily output of approximately 5kWh, the Cupola Series meets typical household needs. It's built to withstand harsh conditions and extreme weather events, ensuring uninterrupted power supply. Plus, it's backed by a patented design (US 10,495,063) for optimal performance.
Say goodbye to high electricity bills and reduce your carbon footprint with the Cupola Series. Harness the power of the wind and enjoy clean, renewable energy. Experience a greener future with this reliable, low-cost power solution.
Join the wind energy revolution with the Cupola Series.
Infrastructure in a Box
A source of low-cost power for residences, farms, and marinas.
Use to complement battery storage, grid and solar power.
Simple to install wind energy structure ships fully assembled, wired, and tested.
Designed to produce approximately 5kWh daily typical min*. (Larger sizes available upon request)
Hardened construction: Survives austere conditions and extreme weather events.
Patented (US 10,495,063).
Construction
Wind energy enclosure comprised of durable powder coated aluminum enclosure with high performance, polymeric geomembrane rotor.
Prewired charge controller, Li Ion battery storage, and external power connections.
Pre assembled, wired and tested; ready for installation.
Share
View full details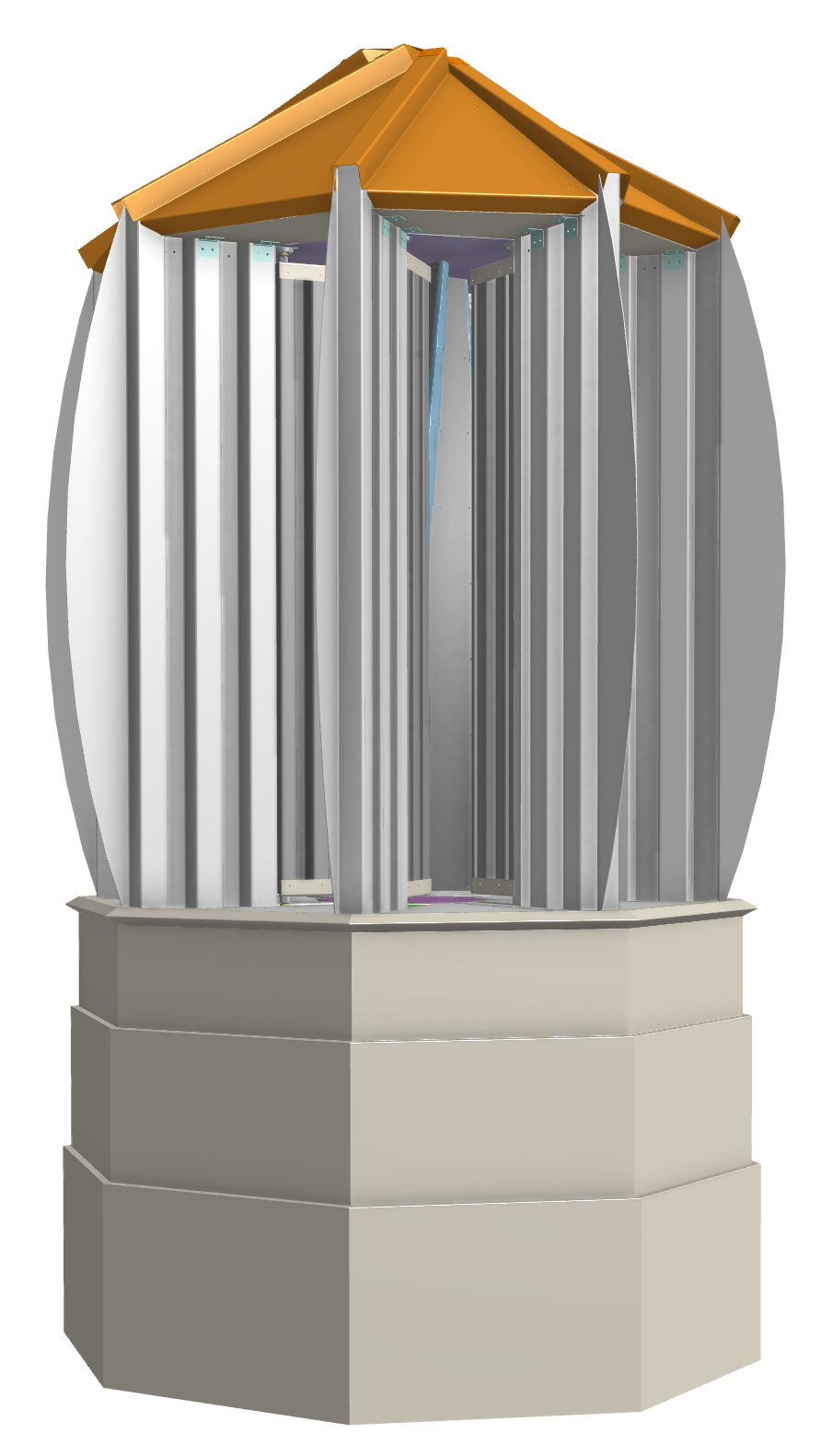 Technology Summary
Revolutionary Approach To Wind Energy Capture
The sails of the CP Wind Energy System intercept the wind, create a vortex and focus its energy in a chamber at the center of the enclosure.
The fortified, hidden-in-plain-sight stationary structure harvests wind from all directions. Does not need to be pointed into wind.
70 year design life. Survives 200mph winds.
Produces 2x power of typical alternative energy technology.
Silent, stationary, no shadow flicker, people and wildlife friendly. Blends in with built-environment.
Dynamic Chamber
At the center of our enclosure is a chamber housing the rotor. The chamber dynamically changes size and shape responding to ambient wind speed and direction, optimizing air flow and power production.
Easy Deployment
Ground or roof mounted. No tower or foundation, connect with solar arrays.
Next Generation Rotor
Our revolutionary, lightweight high performance rotor starts at lower wind speeds, stable at high wind speeds
Minimum Maintenance
All units are designed to operate in extreme and harsh environments with minimal maintenance.
Deployment, operation and maintenance training included.
10-year warranty and optional Investment Protection Program extended warranty and service / maintenance program.
Proudly 100% Made in the US.

Technical Specifications
Model Information
Model No.

CP-01000-A: On Grid
CP-01000-B: Off Grid
CP-01000-C: Grid as Backup

Design Lifetime
Foundation Type

No foundation required, mount to roof or on ground with optional base.

Orientation
Yaw System

N/A - Dynamic chamber mechanically adapts to changes in wind speed and direction.

Weight

Noise Level

Silent (0 dB above ambient at 0 ft from equipment.)
Electrical Output
Generator Type and Drivetrain

Permanent magnet generator with synchronous power transmission belt.

Output

Available in 3 configurations:

Off Grid: 15.5VDC to charge controller for Li Ion batteries.
On Grid: 120VAC / 60 Hz single phase.
Grid-As-Backup: 120VAC / 60 Hz single phase with Li Ion battery storage.

Order batteries separately.

Battery Storage

Li Ion - Customer configurable, contact factory.
Performance
| | |
| --- | --- |
| Cut In Wind Speed | |
| Cut Out Wind Speed | |
| Max Survivable Wind Speed | |
| Rated power v. Wind speed | |
Environmental Specifications
Min Temp
Max Temp
Humidity and Corrosion

All materials are non corrosive.
Enclosure designed to suffer airborne particulate matter including sand and ice.

Lightning

Lightning rod and electrical surge protection included.
Power Curve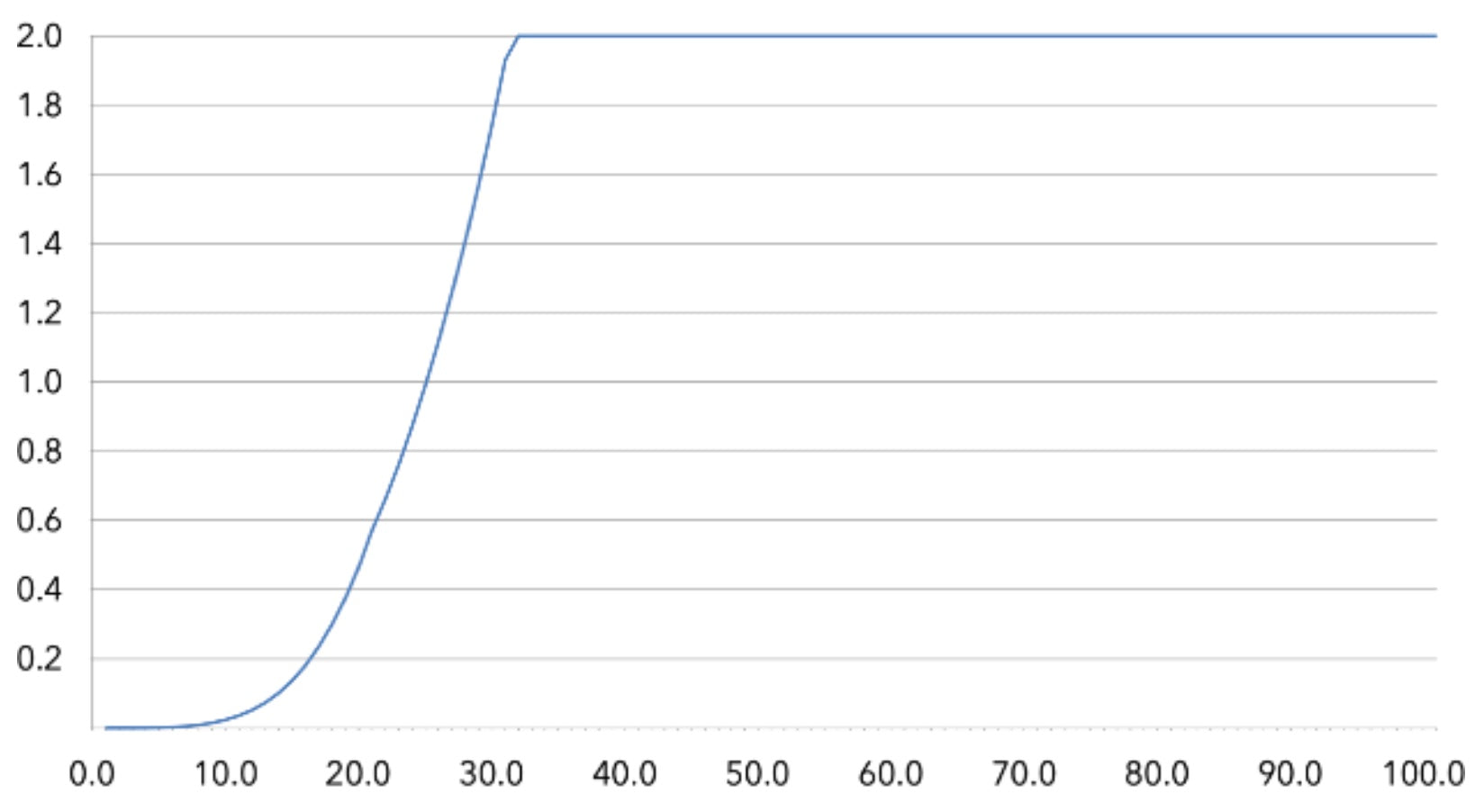 Average Monthly Production
| | |
| --- | --- |
| Avg. Annual Wind Speed (mph) | |
| 8.0 | |
| 9.0 | |
| 10.0 | |
| 11.0 | |
| 12.0 | |
| 13.0 | |
| 13.5 | |
* Standard conditions: air density 1.225 kg/m3, equivalent to 15°C at sea level.
Dimensions
Data Sheet